#
TrustPilot Reviews
REAL PEOPLE.
REAL OPINIONS.
"They sent me the best quotes without any hype or sales pressure. Was much better than my local agent." – Phil Johnson
"They were very patient and answered all my questions. They had my best interests at heart." – John Deskind
"Despite my initial concerns about handling a large financial purchase on the internet, I would not hesitate to use their service again." – Alice Walker
TrustPilot Reviews
REAL PEOPLE.
REAL OPINIONS.
"They were truly more concerned about helping me get what I wanted than making a sale." – Dean Hudson
"I checked other web sites but their rates were the best. Within a matter of days I was able to buy a great annuity." – Joyce Marks
"I bought two annuities from them, one in 2009, and another in 2014. Both times they were the nicest, most patient agents I ever met." – Jim Fisher
TrustPilot Reviews
REAL PEOPLE.
REAL OPINIONS.
"They are the friendliest, no b.s. annuity agents you will ever find. There was never any pressure to "close" me." – Jack Lawson
"Everything went like clockwork from first contact online to receiving my first payment. I love these guys!" – Mary Sullivan
"Their prices easily beat my employer's offer. I was able to buy my annuity without having to meet any other agents." – Gene Smith
Annuity Commissions and Fees
Written by Hersh Stern Updated Monday, May 15, 2017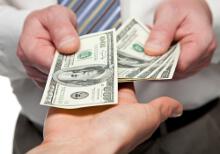 The #1 question I'm most-often asked is, "Why do annuities charge such high commissions?"
It's true, some insurance companies pay their agents as much as 10% for selling certain types of annuities.
All annuity commissions are not the same
The bad rap for high commissions though belongs to annuities that are indexed to the stock market. It's important not to lump all the different types of annuities together.
For annuities that are not indexed to the stock market, the commission paid to an agent can be as low as 1%.
So how much commission are you paid?
When you buy an annuity through our service the insurance company pays us a commission based on the type and duration of your annuity. Here are some examples of the commission percentages we receive:
Immediate Annuities and Deferred Income Annuities
Annuities with simple features and no surrender charges, like an immediate annuity ('SPIA') or a deferred income annuity ('DIA') pay a one-time commission that varies from 1% to 5% of the premium.
The exact percentage is determined by the length of the income payment period, age of the buyer, and annuity payout option selected. For example, we may earn a 3% commission on the sale of a life annuity to a 65 year old. And we may earn 1% or less on the sale of a 5-year period certain annuity to the same buyer.
It's important to note that the commission is already built into the annuity quotes you receive. So there is no additional commission or fee you pay us nor is any commission deducted from your monthly income. The quotes on our web site are net of any commission and there are no annual fees.
Multi-Year Guarantee Deferred Annuities
A multi-year guarantee deferred annuity ('MYGA') is a type of annuity that is similar to a bank certificate of deposit ('CD'). To keep the interest rates on their MYGA offerings competitive with interest rates on bank CDs, insurance companies typically pay a lower 1% to 3% commission for the sale of a MYGA annuity.
As an example, if you purchased a short term (3-4 years) MYGA through our service we would earn a 1% to 2% commission. If your MYGA was for a longer duration (5-10 years) our commission might be 3%. Generally, there are no annual fees with a multi-year guarantee annuity.

We'd love to hear from you!
Please post your comment or question. It's completely safe we never publish your email address.
Comments (8)
Very few life insurance companies offer their annuities for direct purchase. And very few companies do not have agents.
Those that sell directly typically price their annuities no different that when you buy the same annuities through their agents. So removing the agent's fees may not reduce your costs or increase your income.
The reason insurance companies rarely improve their annuity rates when you buy directly from them or through their agents is that these companies don't want to create any conflicts with their existing agents, on whom they depend to market and service their products. So while it may seem reasonable to expect better pricing, in practice, that's not what's happens.
I believe TIAA is one of the direct marketers. I suggest you call TIAA to get an annuity quote and then compare TIAA's rates with those from the companies I represent. You'll find that even as a direct seller, TIAA's rate may not be your best deal.
There's a good reason for this, too: A typical agent's commission for a fixed income annuity is a one-time payment of 2% to 4%.
When pricing its annuities, an insurance company considers many factors, including what it earns on its investments and how long it expects you to live. The range across companies for just these two factors alone can cause their annuity income quotes to vary by as much as 10% to 15%!
So in practice, the 2%-4% commission by itself will rarely impact how much income you are paid by the company. Other variables have a much greater effect on your quote.
There's another important reason the agent's commission is not really the determining factor in how much income an annuity will pay you. I'd like to use TIAA, again, as an example.
While it's true that TIAA does not have an outside sales force so it may not be paying anyone a "commission", TIAA nonetheless does have a large inside sales team who answer the phones, process requests and who are being paid nice salaries and need office space, equipment, etc. to do their work. So how different is it really if TIAA were to pay agents to sell its annuities versus paying employees to sell its annuities?
When you look at commissions from this perspective you realize that all that's happening is the insurance company is outsourcing its sales activities to a third-party and paying that party what it would have been paying it own sales team.
From the agent's perspective, the commission helps him to recover his operating and overhead expenses. And yes, there's a profit margin to pay him for taking the risk that he may not earn anything if his products are not attractive.